The 0x80070002 error code is one of the common errors that computer users may encounter. Manufacturers of the product reporting the error can decipher such numerical codes such as 0x80070057, 0x80070005 and 0x80070002. In many different situations, such as systems, applications, this error can occur.
It usually occurs with some error messages, but for many users who do not acquire relevant experience or professional technical knowledge, it is still very complicated and difficult. This article will explain a number of error cases and tell you how to fix them step by step. The subtitles of each part are listed here for convenience and you can click to reach the relevant content.
Windows Update encountered an unknown error
Symptoms and causes
Error 0x80070002 and error 0x80070003 are common Windows update errors. You may run into error code 0x80070002 or 0x80070003 when you work with your Windows PC and try to install system updates.
The numerical error often appears in error messages that differ from versions of Windows. For example, if your computer runs Windows 8 / 7 / vista, you may get the message "Error(s) found: Code 80070002 Windows Update has encountered an unknown problem;" if Windows XP computers are running, the message will be "A problem is to prevent Windows from checking the license for this computer accurately.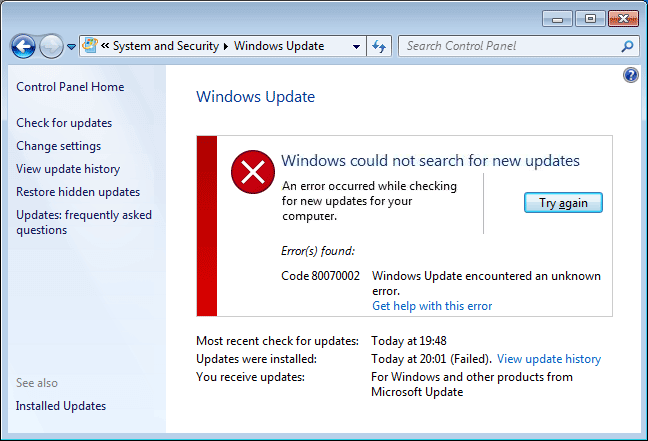 Windows update error is usually caused by a problem with time / date, corruption of files or registry and it is not difficult to fix it. The error occurs when the system update fails and the failure causes the problem of data mismatch. The removal of these corrupted files therefore helps to eliminate the error. A short summary of possible causes is available:
The Windows XP default security provider has been changed.
System fails to update certain important files.
The drive letter of system partition has been modified.
Computer doesn't transmit all files during updating software.
Solutions to fix the error
Since the causes of the error are not exclusive, the solutions vary significantly. This article offers a number of solutions that have been tested to solve this error effectively.
Method 1: Check date and time settings
This solution sounds ridiculous, but for many users it works. If the time or date is incorrect, the Windows update service will have a bad effect and it is necessary to check the date and time settings first when you get the error, which is easy.
Step 1 In the lower right corner of the screen, click "Date and Time" and click "Change date and time settings."
Step 2 You will see the window "Date and Time" and click on the button "Change date and time."
Step 3 The previous applet "Date and Time Settings" sets the correct date and time. To save changes, click "OK."
Now restart the computer and install updates to the system. Please move to the next solution if this method does not work.
Method 2: Remove Windows update files
If you get 0x80070002 error due to failed system update, some files are corrupted. We should therefore delete these files and try again to update Windows. These steps can be followed to solve the problem manually.
Step 1  Stop Windows Update service.
Click the button "Start" and select "Control Panel." In the search box, type "Administrative Tools" and press Enter.
Find and double-click "Service" in the pop-up windows If you are asked to provide the password or confirmation of the administrator, type the password and confirm.
To sort items alphabetically, click on the tab "Name," after which you can easily find out the Windows Update service. Click it right and select Stop. For users of Windows XP, see Automatic Updates and right-click Stop.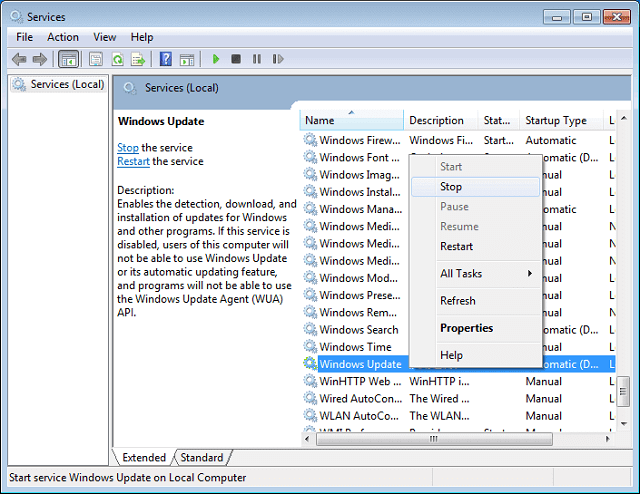 Step 2 Delete corrupted software distribution folder update files.
Open my computer and double-click drive C for the installation of the operating system.
Open the folder for Windows and double-click the folder for SoftwareDistribution.
Open the folder DataStore and delete all files and folders. Then return to the folder of SoftwareDistribution and double-click Download folder to delete everything.
If you don't want to delete files, the alternative step 2 operation is to rename the SoftwareDistribution folder as old. If the UAC (User Account Control) warns you, click Yes.
Step 3  Restart Windows Update service
Follow step 1 operations to find the update service for Windows. Click it right and click Start. Close Service windows and Administrator Tools window.
Method 3: Use Windows Update troubleshooter
Another common way to deal with the problem is to use the online downloadable Microsoft Fix It Tool. This tool can diagnose and fix common Windows Update problems automatically.
Method 4: Make Primary Partition as Active
A less common reason for 0x80070002 is that the operating system is installed on a non-activated partition. If you get into this situation, you can choose two ways: One is repartitioning the hard drive and reinstalling Windows, which is not recommended, since repartitioning the hard drive removes everything; the second option is to activate the system partition.
Step 1  Open Registry Editor. Press Windows key and R from your keyboard and you'll see Run window. Type regadit and press Enter to load Registry Editor. If you receive message prompted by UAC (User Account Control), please click Yes button.
Step 2  Now you get Registry Editor where you can navigate the OSUpgrade key following the path:
HKEY_LOCAL_MACHINE\SOFTWARE\Microsoft\Windows\CurrentVersion\WindowsUpdate\OSUpgrade.
Step 3  Select OSUpgrade key and right-click mouse button on the right pane of Registry Editor and click New. Then Click DWORD (32-bit) Value.
Step 4  Right-click the newly created NewValue#1 and select Modify. Please rename the entry as "AllowOSUpgrade", after which you can double-click it and enter 1 and select Hexadecimal and click OK.
You can close Registry Editor window and retry Windows update which can be launched from Control Panel. Check for updates and if there are available updates you can click "Get Started" button to download updates.
Note:
Make sure Language Setting is set as English (Unites states) instead of something else, otherwise it might not work. You can configure the setting in Control Panel and this helped some users to solve the problem.
You should run Windows Media Creation Tool as administrator. Right-click it and select Run as administrator option.
Disable firewalls or antivirus installed on your computer, as such software cause the issue in some cases. You can enable or reinstall firewalls or antivirus after Windows 10 upgrade is done.
Microsoft Security Client Error
You just installed Windows updates, which is quite normal to Windows users, but after the update, you receive an error when Windows starts up. The error pops up in a box message titled by Microsoft Security Client "An error has occurred in the program during initialization. If this problem continues, please contact your system administrator. Error code: 0x80070002". If you are having the error and have no idea what to do, this step-by-step manual can help a bit.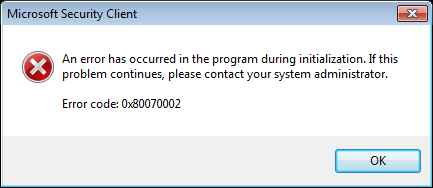 Step 1  Open Service window. Press Windows key + R on your keyboard and type "services.msc" in the search box of Run window and press Enter.
Step 2  Look for Windows Update item and view its properties by right clicking it and select Properties.
Step 3  When the Windows Update Properties (Local Computer) pops up, you can click General and select Automatic (Delayed start) for Startup type. Click Start button and then click Apply and OK to make changes take effect. Next close the window. Back to Service window and click File from menu to choose Exit.
Step 4  Open Windows Defender to download update. Click Start button and type Windows Defender in searching box and hit Enter. Click Update button under the Update tab.
Note:
If you are still having the problem after trying steps above, you can try Fixit to fix the issue.
Call On Our Technical Support Phone Number for fix fix windows error code 0x80070002 by Errorcode Expert 
 USA +1-888-401-4846 Right Now to Get Instant Help